Our Bios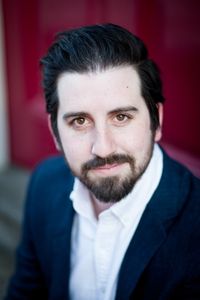 Thomas Bowers (harpsichord) 
received his BA in Music and Philosophy from Florida State University. While studying piano at FSU, he developed an interest in the harpsichord and organ, as well as harpsichord construction. In 2008, he completed the construction of his first instrument, a copy of an Italian harpsichord originally built in 1665.
Thomas attended the Longy School of Music for a Master's degree in Harpsichord Performance, where he studied with Avi Stein. In the May 2015 edition of The Diapason, he was selected to be a part of their yearly "20 under 30," recognizing promising young organists, harpsichordists, and builders.
As a founding member of the Baroque ensemble Incendium Novum, he works to bring early music repertoire to new audiences. Thomas has performed in the Boston Early Music Festival's Fringe Concert Series with Incendium Novum and Volare. He currently serves as Music Director and Organist at Christchurch Anglican in Montgomery, Alabama.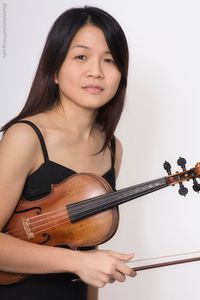 A native of Taiwan, 
Yi-Li Chang 
has been recognized by Boston Musical Intelligencer as a baroque violinist with "confident virtuosity, and blend as necessary, adding a rich warmth to the group's sound. ". As a founding member of the early music chamber ensemble Incendium Novum, Yi-Li performs regularly in the Boston Area: Weber Theatre in Wheaton College, The Florence Hayward Sweet Club House, among others. Yi-Li has also participated in early music festivals, most recently at Amsterdam Conservatory Early Music Summer School, Amherst Early Music Festival, and the International Baroque Instituteat Longy. She has participated in Masterclasses with Elizabeth Blumenstock, Antoinette Lohmann, Aisslinn Nosky, Philippe Pierlot, and Sayuri Yamagata, among others.
 Yi-Li has performed solo and chamber baroque violin recitals in many well known concert halls such as Harvard University's Sanders Theater, Pickman Hall at Longy, Harvard Memorial Church, St. John's Seminary in Boston. She has also toured with various groups, such as Incendium Novum, Rumbarocco, A Joyful Noyse and Formosa Baroque in U.S.(Massachusetts, Maine, Wisconsin, and Alabama), Taiwan, and Europe. Yi-Li also gave modern violin recitals in Pickman Hall at Longy in Cambridge, National Concert Hall in Taiwan, and National Recital Hall in Taiwan, Kaohsiung Culture Center, Bach Recital Hall in Taipei, and National Taiwan Normal University Concert Hall. She has also studied piano performance and composition; some of her compositions have been recognized and performed in Calvary Chapel Chinese Fellowship, Taipei Culture Center and Kaohsiung Culture Center.
 As an orchestral musician, Yi-Li performs with Boston-based groups such as Grand Harmonie, Harvard Baroque Chamber Orchestra, Eudaimonia and the Longy Early Music Ensemble. While in Taiwan, she has been a member of the Kaohsiung Symphony Orchestra, NTNU Orchestra and Taipei Century Orchestra. She has performed as concertmaster in Purcell's "Dido and Aeneas" with the Longy Early Opera Project, as string section coach and concertmaster, for Philharmonia Moments Musicaux Baroque orchestra's Opera Project "Don Quichotte chez la Duchesse" in Taiwan, and most recently as guest artist and coach for Tufts University Early Music ensemble in spring of 2016 and 2017.
 A well-rounded musician, Yi-Li's knowledge of music goes beyond the modern and baroque violin. In addition to baroque performance and composition, her interests extend to harpsichord, which she has studied with Avi Stein and Vivian Montgomery, continuo accompaniment, which she has studied with Vivian Montgomery, Avi Stein, Douglas Freundlich and Dana Maiben, and viola da gamba, which she has studied with Jane Hershey and Sarah Cunningham. Yi-Li was an harpsichord accompanist at Longy, and gave harpsichord recital and gamba recital in 2016. Yi-Li also invited to give lectures at the music department of National Taiwan Normal University and Shiaoyun Early Music Ensemble, for which she talked about "Ancient spirit through contemporary vessels – The baroque style on modern violin", "The differences between baroque and modern violins" at Faneuil Branch of the Boston Public Library. She is going to give a lecture " Treatise of Leopold Mozart, A Treatise of the Fundamental Principles of Violin Playing" in Shiaoyun Early Music Ensemble Taiwan, October in 2016.
 Yi-Li graduated in 2016 with a Graduate Performance Diploma, and in 2015 with a Master of Music degree in Early Music from the Longy School of Music of Bard College, studying under baroque violinist Dana Maiben. During her studies at Longy she was the winner of the Honors Competition at Longy and granted the prestigious Roman Totenberg Award. Previously, she has received the M. M. and Ph. D. in modern violin performance from the National Taiwan Normal University, where her dissertation, 
an examination of Locatelli's "L'arte del violino" in light of treatises by Geminiani, Tartini, and Leopold Mozart
, has become a unique resource in the Chinese-language secondary literature on baroque violin performance practice.
 For 2018, Yi-Li's collaborations with Rumbarocco, with Incendium Novum, and with the faculty of Wheaton College are in progress respectively, will produce concerts very soon. Besides being soloist and being with these groups, Yi-Li is also a dedicated teacher, which she is capable to teach violin (baroque and modern), piano, and viola da gamba.   
http://www.yilichangmusic.com/


Heidi Freimanis (soprano) regularly performs chamber music, oratorio, and opera in and around Greater Boston. As a soloist her recent repertoire includes Mahler's Symphony No. 4, J.S. Bach's St. Matthew's Passion with the Freisinger Chamber Orchestra, and Poulenc's Gloria with Boston Masterworks Chorale. The Boston Musical Intelligencer praised "the gloriously rich, smooth performance of soprano Heidi Freimanis" when she made her debut with the Freisinger Chamber Orchestra as the soprano soloist in J.S. Bach's B Minor Mass.  
As a member of the Copley Singers, Heidi had the great honor of singing for the President of the United States at the Interfaith Service for Victims of the Boston Marathon Bombings. Other ensemble appearances include Boston Modern Orchestra Project's production of Tippett's The Midsummer Marriage and Odyssey Opera's production of Wagner's Rienzi, where Heidi performed in the Chor der Friedensboten with the Lorelei Ensemble. Heidi's ensemble performance of Jonathan Sokol's La Salève for the Boston New Music Initiative's Eternal Spring program "achieved a perfect balance of vocal sound effects and the clear beautiful tones such a quartet is capable of," raved the Boston Classical Review.
In 2014 Heidi joined Incendium Novum, a historically informed chamber music ensemble that performs on period instruments. Incendium Novum appeared as part of the Boston Early Music Fringe Festival and was recently named artist in residence at Saint Peter's Episcopal Church in Cambridge, MA. Heidi is also a member of the Holy Cross College Schola Cantorum directed by James David Christie.

Heidi graduated from the Boston University School of Music, where she received her Bachelor of Music in Voice Performance and Master of Music in Historical Performance - Voice. As a graduate student Heidi sang the role of Cupid in John Eccles' Semele with the Boston University Baroque Orchestra directed by Martin Pearlman and received the School of Music Award for Outstanding Achievement in Voice. She currently studies voice with Carole Haber of New England Conservatory.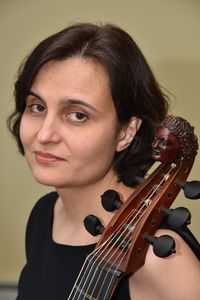 Zarina Irkaeva (cello and viola da gamba) is one of the founding members of Incendium Novum. She studied Viola da Gamba with Laura Jeppessen, Carol Lewis, Reiko Ichise and had masterclasses with Philippe Perlot and legendary Wieland Kuijken.
Mrs. Irkaeva holds MM degree from St. Petersburg Conservatory (Russia) and prior to moving to US served as assistant principal cello in the St. Petersburg State Symphony Orchestra. She participated to numerous music festivals around the world, including the Tchaikovsky Festival (Japan), 1993), Frankfurt Music Festival (Germany, 1989), St. Petersburg Baroque and St. Petersburg Chamber Music festivals (Russia) and Greensborough Chamber Music Festival ( US, Vermont 1996).
In addition to active chamber music and solo performance career as a cellist and viola da gamba player, Zarina Irkaeva is Assistant Professor at Wheaton College (MA) where she has been teaching since 2000.
Guest Artists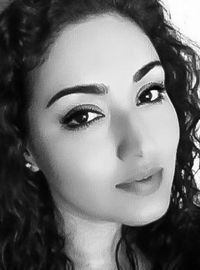 Liza Navarro Zuniga(mezzo-soprano) is a San Antonio native whose voice has been praised as being rich, smooth, and elegantly agile. 
As a soloist, her repertoire includes Handel's Messiah, Brahms' Alto Rhapsody, Vaughan Williams' Magnificat, Beethoven's Mass in C, Vivaldi's Gloria, Bach's Cantata 142 Uns ist Ein Kind Geboren, Praetorius' Nun komm der Heiden Heiland & Puer Natus in Bethlehem, Schütz Historia der Geburt Jesu Christi, and Mozart's Coronation Mass, Requiem, Missa Brevis K. 220, Vesperae Solennes de Confessore at venues such as San Fernando Cathedral and The Basilica of the National Shrine of the Little Flower San Antonio, Bruton Parish Williamsburg, Carnegie Hall New York, Mirabell Palace Salzburg, Karlskirche Vienna, Melk Abbey, and with the Prague Radio Symphony Orchestra at St. Giles Cathedral. 
As a church musician, Ms. Zuniga has served at various religious institutions in San Antonio, Williamsburg, and most recently at the Parish of the Epiphany in Winchester, Massachusetts. 

Zuniga is a graduate of the University of Texas at San Antonio in Vocal Performance, and currently enjoys an active free-lance career.